I'm really thankful for your sharing. It is really so inspiring and it always gives me hope that actually following Jesus is something awesome! It really gives peace to know that there are other people that go through similar struggles as I do and to know that those struggles are God's Hand wanting to set me free is fascinating! It was an honor and pleasure for me to sail with you!
I 

wanted to share how much the boat trip meant to me, it was the first time in a long time I felt so alive. God really had a blessing for me.
Once again a hearty thank you for the fantastic time in Greece on board the yacht…it was a trip of a life time. I came back so refreshed with a deeper understanding of me being a son of our Father. It was so fantastic the combination of just having fun and enjoying life as well as the teaching.
W

ow! What a time! Thank you so much for putting the whole thing together. For me it was indeed a powerful time… keeping things as loosely planned as we did was important. It brought a sense of openness to the Spirit and adventure that for me was a highlight. We spend too much time just 'getting thru life' rather than really LIVING it. During our week I think we really LIVED! And I felt God's pleasure in that.
T he time we had on the boat together was really a blessing for me. God gave me back my tears which I lost over the last 6 years. I really had the feeling of being in the right place together with you guys'.

My participation in this particular trip taught me the importance of the rest and recreation as real spiritual activities.
T

hank you again so much for all you did to make our trip possible. This holiday was one of the best ones in my life. To me it was pretty perfect: the boat, the people, the landscape and of course the delicious food. When I started this trip I was mostly done with Christianity. The way you live as a christian and how you are so relaxed and free has given me hope. I still have thousands of questions, and all I really want is to live in the freedom of the christian gospel.
I

really loved the whole journey. I tend to downplay things in how I express myself, so I want you to know that I was totally blessed with this, "trip of a lifetime." Thanks for all your work in making it happen.
 

A

nd the spiritual aspect of the trip had even deeper impact on my life. Jesus IS the one we should rely on, and the surrender to Him and Him only is the most daring and the most blessed step anyone could take. He is in control, not me, or someone else. He took my burden, my past, and threw it in the oblivion. I can't believe I knew that truth in my head all these years, and yet, I felt comfortable not to accept it fully .. Thank God that I can trust Him and let Him take all things that control me and keep me struggling. I will definitely see if I can join another Living Journey, and I hope I will be able to help someone to join us. This is the experience for life!
I

'm still in that atmosphere, and my life changed and it will never be the same after that great gift from God that have been given to me by that amazing journey. It was a journey of my lifetime till now, I believe that God had prepared it from the eternity and I just had to enter in it. You had a great part in it, and I just want to still thank you and your dedication and investment, I'm really thankful and hope that we'll collaborate more in the future, I know that Father wanted it to be this way, so he'll tell us the next steps for sure! That posing thing entered in my being and I know it'll remain there, creating that metanoya, and I also know that I think different, and my associations in every circumstances are getting to be connected with it. It helped me a lot, and I know that it will work and extend in me creating a new paradigm and mentality in me.
  T o be honest I still can hardly believe what I've went through. It took me a lot of time to get "off the mountain". I was not willing to come down, if you know what I mean and if this sounds childish. I could set off for a second round anytime!
As I told you I did not have any real expectations. This was because you know I am a cautious guy and I didn't want to be disappointed. But the trip was much more than I hoped. It gave me several new experience. I'm in love with sailing. This is bad news as the cost of it generally is higher than my possibilities (at least this type, on the sea). But who knows? God may open this door as he made it possible during this trip. Thanks to Him and to all those who made it possible financewise!
It was a great time to spend together! Together in chats, drinking, fooling around and last but not least in fellowship! What you are doing is just great! No, that's not the good work: it's blessed. And it suits you really well. A real captain (sorry, skipper) in every sense. And yes, you have to expect that any crew will follow you! You inspired me and I guess all of us throughout the trip. I enjoyed every moment.
Spiritual adventure. I didn't expect it this way but it was very effective. I loved the non-religious approach which you favorized even though I am quite conservative on that field and the impact was great! It would probably not work for me ashore but this environment was ideal for it. Thank you for leading us on this part as well!

Since quite a long time went by since arriving home my feelings have evaluated. First it was mere emotions, positive ones. I missed every one of the team, the ambiance, our Team. But as time passed (and I hope this will continue) the spiritual experience of this adventure started to infiltrate into my life. God started to lead me on a new path earlier this year and He fitted this trip into it. I feel myself as a neophyte but in a different way: same feelings, deeper content. Great to be dead! Sometimes people who I am talking to look onto me as if I have gone nuts. I encourage you to carry on with this! Believe me, this is something really wonderful. And a very powerful tool in God's hand. And remember, I am available if you need a Mannschaft! Maybe on our trip (with this Team through the Atlantic?)

I would like to express my gratitude for you, your faithfulness to Jesus and the truth you have shared with me over the last year. I am forever greatful for the opportunity i had to be on that boat with you and enjoy some quality time and soak up some very deep truth we all need to be reminded of.  Thankful for your continued friendship, and care. But most of all the Jesus you represent to the world and your faithfulness to Him!
 

I

came on this trip, both exhausted from work and fed up with trying to figure out the christian life. The last thing I would have wanted, would have been the usual christian retreat routine (bible study in a scholastic atmosphere and stereotypical answers). So the whole concept of a retreat on a sailing boat seemed just the right thing – and it was. For one thing, being "stuck" in such limited space for a week, was the best way of unwinding from the day to day routine of busyness, as my usual methods of escaping inactivity were not existent on a 15m yacht. So I simply had to sit down, enjoy the view and have conversations – the whole day, for a whole week. I think, that was more recreational than two weeks of any kind of normal holiday, where I would constantly be in search of some kind of activity. The second thing I really enjoyed on the trip, was the casual atmosphere on board. There was no artificial christian talk or behavior, no sense of religious narrowness – and still (probably exactly for that reason) there was a deeper spirituality in the air, that felt real and more inspiring, than 99% of the sermons I have ever listened to; and the same is true for the theology and the approach of our daily session on "exchanged (christian) life". I received a new, broader perspective on christian life, that I didn't have for the most part of my previous life, due to religious role models and their teaching. I would say, I received answers to my questions – although not so much in an intellectual sense, but more in a deeper way, on the level of the heart. So concerning my constitution when I came to the trip (both physical and spiritual), I would say, I came home in a much better condition.  

I 

could not be grateful enough for the whole trip and the adventure we enjoyed. I was honored to be invited and glad to be part of the group. I don't really have many words to express how I feel about it, but it was – cool. I knew that this was a chance that comes only one in a lifetime. As it turned out, I'd rather lose my job than miss that opportunity. It's not very often that you get a group of Christian men cruising the islands just for the thrill of it. We like to think about responsibilities and work etc. But we need to get out into the manhood that God intended for us, and the trip did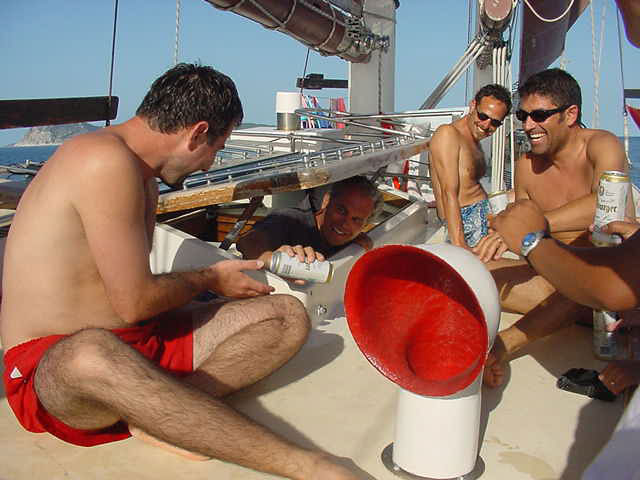 T

his trip was from many points of view impossible for me but I'm glad God made it possible through you as well. During the time we had on the ship I really could concentrate my eyes more on God and review some of my ways of thinking about myself and others and God. I still reflect on those things and still getting new things out of it. It was really rich time with one another and with the Lord.
I realized how I haven't processed what has happened this week at all. But one thing I know: it was an amazing time, tons of input and it will change my life, I am incredible thankful for every moment, the tough ones included.

T

his week for me was in some sense lifesaving. The time I go through is filled with confusion and I felt so much clarification and hope by this trip. I feel I can't really keep together my life: my spiritual life, my emotions, my thoughts my godly character, my future. I feel every control is slipping out from my hands. This can fill me with tremendous fear sometimes. So to be in a place where there was freedom, and love and acceptance for the confused and weak ones was unspeakably comforting to me. I condemn myself to death because the things I feel, think and do. I strive to be like I was before but I can't. This week made me understand that there is place for me still in God's heart and in his kingdom, and I'm not totally lost and God instead of standing at the side and waiting for me to fix my life, He is involved at this process AND THERE IS A REASON FOR ALL OF THIS…. So it was very special to me to be who I was even this time when I feel I'm not so neat and clean. I think I met the gospel not just in words but in real life experience in this week which left a very deep mark in my heart. I believe again that there could be a real inner change of heart.
I

 wanted to take a moment and thank you for your extravagant generosity and making it possible for me to go to the boat retreat. I have been invited and have prayed about going for many years, but time and mainly finances have always been a hindrance for me to participate… I also have been very intrigued by the fact that the focus of the retreat were men around my age who were called to come to a place of openness and away from the pressures of ministry, duty and performance. For many years I felt that I wanted to be in this place. Twice in the past, the Lord has given my visions with speed and sailing boats, to speak and guide me in particular situations, and I always wanted to experience a boat first hand. I can really say that I was blessed in both ways. The time with the guys was a great encouragement and also the boat experience was something extraordinary. I really appreciated the times we as guys could share about our journeys, joys and challenges, and meditate on the mystery and simplicity of grace. I am grateful to you for your generosity. Thank you!
I

 thank God for you and people that enabled me to go for a sailing trip. This was real adventure, both in spiritual and material way! It was challenging to reach Zadar (and even more challenging to get back to Serbia!), and it was great experience, seafaring the Adriatic sea! So great feeling, being one with the wind and sea… God's creation at it's peak! I always liked sea, and sailing.. but now I am definitely in love! Thank you, and I thank the people provided everything for me to join you on this journey that was worth living- real Living Journey! And the sea made clear- no matter if you are Swedish, Serbian, Albanian, or Hungarian, you are too small to face it alone, you all need to work as one! Really good experience, meeting new people, "sworn enemies", as would mainstream media says, but united in Christ, and with sea!
 

I

t was a near-perfect trip for me. Men only (freedom!), old and new friends, Thunderstorms, much too much great food, plenty of beer, crystal-clear blue water, swimming, snorkeling, feeding them fishes…. sun, sunburn, the taste of salt – and above all the incredible practice plus all those allegories of a sailing journey – live!! E.G: Leaving solid ground for days, letting go of almost all usual habits, being squeezed in like sardines but feeling free like a fish in the sea altogether, setting sail, having to work together, learning new things, how to read the wind, the waters, vibrations, instruments… to feel the ship, to steer the course, to walk on water, to live on the edge, to be out on a limb, to tie the knot and know what that means to do it right, to come into port and get hitched… to prepare for tack – to be in command…. Generally, sailing is a constant lesson on "consequences of one's actions". Take a pee into the wind and you know what I am talking about….
And then …. the Input. Once again your clear vision and insight was a really big and important lighthouse for my journey. Needed that. (Your very special route of administration was gorgeous as ever, for sure. Music to my ears). And then…. the talking. I totally loved the take-it-easy talks with all you guys. Knowing that you all are huntsmen and weather-beaten sailors of the seven seas, blessed children of the Father of eternity, Men to die for (at least according to Jesus, and that guy knows his stuff). That was totally awesome. You guys are totally awesome! Every single one of you! But you were also helpful for me to understand one more time: The by far biggest obstacle on my journey is myself. My way of thinking, who I am, my conviction of what I can achieve is the one crucial problem remaining. Nothing else. Because if God is with us – only lies can tear us apart…
 For the past three and a half years, I've been held hostage (in a sense) by my sins, shame, and fear. I couldn't admit my sins to God, let alone accept His forgiveness or forgive myself. But my time on your trip allowed me to work through some really hard stuff with God and I've been basking in the freedom of His overwhelming love, grace and forgiveness ever since. I can finally breathe and live the full life God has planned for me, whatever and wherever that takes me. Thank you for allowing God to work in and through you, so He could bring me to the place I am today.